Peace and Life Connections; January 4, 2013
January 4th, 2013
We reproduce the Consistent Life "Peace & Life Connections" weekly newsletter on this website. If you are interested in more information, or in subscribing to the e-newsletter directly, please visit www.consistent-life.org/ Please note that we do not edit the content of this publication.
Sandy Hook
CL President Bill Samuel shares this message he sent to President Obama: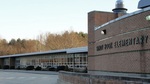 "Mr. President, when you spoke about the tragedy at the school in Connecticut today, you captured the feelings of millions. . . . What puzzles me is why you can't understand that parents in Afghanistan, Pakistan and everywhere around the world feel for their children like you do for yours.
Yet you continue to order actions which kill many times the number of children that deranged man did today. Why are you so wedded to violence? Can't you see that we must turn from the way of violence in all areas – foreign policy, treatment of the unborn, treatment of offenders, etc. – if we are to have a better world?"
Mike Wittmer has written an interesting December 17 blog relating abortion and gun control. 
National Catholic Reporter has an article connecting the kinds of violence a solution of nonviolence.
**************
Print Newsletter Now on the Web
By happenstance, the Fall 2012 newsletter has an interview with Mary Krane Derr (starting pages 4), who passed away November 30. We also have an interview with Rev. Johnny Hunter, who spoke at our 25th Anniversary conference (starting page 4). We have more thoughts on the "rape and incest exception" to abortion and how it actually hurts pregnant rape victims, and we have news from the world of protest and conference witnessing.
All paid-up members should have already received the print version in the mail. If you're not a member and would like to be, we'd love to have you 
join
.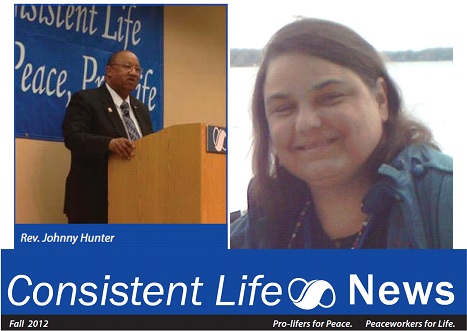 **************
March for Life
Consistent Life has a presence at the March for Life in Washington D.C. every year. We have a web page up for those interested in joining in or at least knowing what's going on.
**************
Rest in Peace: Bishop Walter Sullivan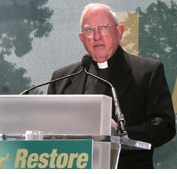 CL Endorser Walter Sullivan passed away at age 84 in December. Our member group Pax Christi, in which he had served as president, published an obituary.
**************
New York Times Opines Against Death Penalty
The New York Times has an excellent January 1 editorial entitled "America's Retreat from the Death Penalty."
**************
Bill Maher Promotes Culture of Death 
It was posted to the web October 7, but word is getting out: in a StarTalk Radio interview, Bill Maher proposed it's a good idea for more people to die by abortion, suicide ("assisted and regular") and the death penalty because "the planet is too crowded and we need to promote death . . . The pope is consistently pro-life. I am consistently pro-death
. . . My motto is, 'Let's kill the right people.'"
**************
Quotation of the Week

Troy Newman, Director of Operation Rescue
December 2012 Life Talk News
This remark comes soon after the panel has discussed the above quotation from Bill Maher. The first few words are said with a tone of heavy sarcasm, and disapproval is clear throughout. 
And you know Mr. Peacenik Obama, who got the Nobel Peace Prize, is actually killing people now with drones. Just like something out of Star Wars. So they're out there targeting individuals and murdering them with electronic equipment. Just following through with the same Bill Maher philosophy – "Kill the right people."


issue #141       Consistent Life web page / Join or Donate / Previous Issues / Index