News Archives » Action Alert
Thanks to Catholic Rural Life for the information in this post.
The Vatican announced this week that it will host a one-day conference on climate change on April 28, featuring some of the world's leading climate scientists. The conference is titled Protect the Earth, Dignify Humanity and is subtitled "The Moral Dimensions of Climate Change and Sustainable Development."
The conference will highlight "the intrinsic connection between respect for the environment and respect for people—especially the poor, the excluded, victims of human trafficking and modern slavery, children and future generations," states a Vatican announcement.
The purpose of the conference, according to the Vatican announcement, is to help build a global movement across all religions for sustainable development and climate change throughout 2015 and beyond.
Besides climate scientists, the one-day summit will include participants from major world religions. The aim here, says the Vatican, is to "elevate the debate on the moral dimensions of protecting the environment in advance of the papal encyclical."
The Pope's much-anticipated encyclical on the environment is expected in late June.
Click here to read more »
Citing a papal directive to take decisive action on climate change, the Global Catholic Climate Movement has started a petition which seeks to display "a strong Catholic voice" of concern on climate change ahead of international negotiations set for Paris in December.
"Climate change affects everyone, but especially the poor and most vulnerable people. Impelled by our Catholic faith, we call on you to drastically cut carbon emissions to keep the global temperature rise below the dangerous threshold of 1.5°C, and to aid the world's poorest in coping with climate change impacts," reads the petition, accessible on the movement's recently revamped website.
In a message delivered toward the end of the last climate negotiations in Lima, Peru, the pope said that decisive climate action "is a grave ethical and moral responsibility," and warned that there exists "a clear, definitive and unpostponable ethical imperative to act."
Sign the petition to register your support for strong action to mitigate climate change.
Learn more at National Catholic Reporter.
The Ecumenical Advocacy Days Annual Conference will be held in Washington, DC from April 17-20, and will focus on the problem of mass incarceration in the United States.
The EAD Congressional Advocacy day will be on April 20th. Here is the EAD 'ask' of Congress:
(Click above to read the full "Ask" with talking points and background information.)
We call on Congress to reform federal criminal justice and immigrant detention policies toward the goal of ending unfair, unnecessary, costly and racially biased mass incarceration:
Adopt criminal justice and sentencing reform policies that incorporate an end to mandatory minimum sentencing;
Eliminate the detention bed quota for immigrants and implement alternatives to immigrant detention.
Our Faith Conviction
As people of faith and conscience, we call for respect to be shown all people as bearers of God's image. Jesus tells us to act
Click here to read more »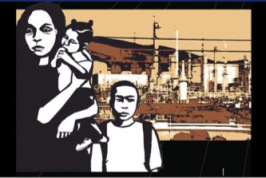 Given the results of the latest report released by the Intergovernmental Panel on Climate Change, the NAACP says we must ask ourselves some critical questions about how we prepare our children to face the world they will be inheriting, and the harsh truth of today's conditions and dynamics. How do we ensure that our youth emerge from their studies with an understanding of the intersection between our social, economic, cultural, political, and environmental status in society? How do we teach them their role as influencers of what's happening in their environment, now and in the future?
The reality of being a youth of color and/or a youth living in a low income community means that, due to socio-political marginalization, already one is more likely to be located next to a polluting facility and/or living in a county whose air quality is in violation of already lax federal standards. And, mnority youth are more likely to have the very building that houses their institution of learning built on toxic, contaminated land. We see how this plays out in high rates of asthma, attention deficit disorder, learning problems, and even violence, all of which are tied to exposure to toxins. We also see this result in missed days of school for children, missed days of work for parents who are sick themselves and/or caring for sick children, etc. We also see lower property values because of proximity to toxic facilities, which means under-resourced schools and compromised education. These youth are caught in a cycle of pollution, illness, poor education, negative interactions with the criminal justice system, and economic blight, which detracts from youth's ability to achieve and their families' capacity to thrive.
CLICK HERE TO READ MORE, DOWNLOAD THE DOCUMENT, AND SHARE WITH OTHERS VIA SOCIAL MEDIA. 
Recently, Congress has been deadlocked in attempting to pass a bill that would roll back executive legislation on immigration. This Lenten season, let us uphold the dignity of all people and offer our prayers and action for immigrant families.
Both the Justice for Immigrants Campaign and the Interfaith Immigration Coalition (IIC) have posted Lenten resources on their websites. The Justice for Immigrants Campaign resource is a 30-page toolkit available in both English and Spanish that can be downloaded and used throughout the season of Lent.