News Archives » environmental justice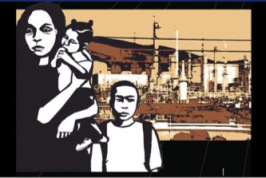 Given the results of the latest report released by the Intergovernmental Panel on Climate Change, the NAACP says we must ask ourselves some critical questions about how we prepare our children to face the world they will be inheriting, and the harsh truth of today's conditions and dynamics. How do we ensure that our youth emerge from their studies with an understanding of the intersection between our social, economic, cultural, political, and environmental status in society? How do we teach them their role as influencers of what's happening in their environment, now and in the future?
The reality of being a youth of color and/or a youth living in a low income community means that, due to socio-political marginalization, already one is more likely to be located next to a polluting facility and/or living in a county whose air quality is in violation of already lax federal standards. And, mnority youth are more likely to have the very building that houses their institution of learning built on toxic, contaminated land. We see how this plays out in high rates of asthma, attention deficit disorder, learning problems, and even violence, all of which are tied to exposure to toxins. We also see this result in missed days of school for children, missed days of work for parents who are sick themselves and/or caring for sick children, etc. We also see lower property values because of proximity to toxic facilities, which means under-resourced schools and compromised education. These youth are caught in a cycle of pollution, illness, poor education, negative interactions with the criminal justice system, and economic blight, which detracts from youth's ability to achieve and their families' capacity to thrive.
CLICK HERE TO READ MORE, DOWNLOAD THE DOCUMENT, AND SHARE WITH OTHERS VIA SOCIAL MEDIA. 
Dennis Sadowski, staff writer for Catholic News Service, has completed a series of articles on hydraulic fracking from a faith-based perspective. "It was a complicated issue to examine," he informed Catholic Rural Life. Nevertheless, Sadowski provides a clear overview of this controversial energy source while blending in environmental justice teachings of the Church.
The Oblate JPIC Office has been engaging oil and gas companies on social and environmental issues related to fracking.
The six articles of the Catholic News Service series can be found via links posted on the Catholic Rural Life website.
Thanks to National Catholic Rural Life for this information.
The Fall/Winter Issue of our bi-annual newsletter is now available. (Download the PDF…)
This issue includes articles on the "Books to Prisons" project, Comprehensive Immigration Reform, Environmental Justice at Mary Immaculate, Faith and Values in Investing, ICCR's 40th Anniversary, California legislation Against Slavery and Trafficking, a VIVAT International Workshop in India, Economic Growth vs a Steady State Economy, and the The Foreclosure Crisis.
Environmental justice advocates in the Oblates parish of Mary Immaculate in Pacoima, CA are working on materials to educate people about how the toxics being released into the air from a local asphalt plant affect their health. They are asking people to call the state regulator – South Coast Air Quality Management – with a complaint whenever they smell the bad odor associated with hot asphalt. A total of at least eight calls are required to trigger a response from the office.
Notice to the Pacoima community: Please ask and write down the person you spoke with at the South Coast Air Quality Management office and get their employee number. If you are not able to call right when you smell something, write down the time or try to remember the approximate time and report it as soon as possible. If you smell this everyday, please call everyday once a day. The number is 800-288-7664. Your call can make a difference! We thank the people that have already called, please keep calling whenever you get the smell.
The latest news on activism regarding the possible air pollution from the All American Asphalt Company in San Fernando, CA:
The agency that regulates air quality in Los Angeles (SCAQMD) requires that at least eight different people from different households call to report a problem in one day in order for them to take action. Whenever you smell something that smells like asphalt call 1-800-288-7664. You have to report the type of smell, the day and time, where the smell is coming from, and if it continues. You will be asked for your name and contact information but that will be kept confidential. Most likely the smell of hot asphalt comes from All American Asphalt located at 11549 Bradley Av, San Fernando, CA 91340.
The environmental committee of Mary Immaculate will have a meeting at the San Fernando Park on Saturday, September 17 at 9:30 a.m. (on the benches near the basketball court) to motivate and guide more people to call when they sense this bad smell.
This is the latest news from the group from St Mary Immaculate in Pacoima, CA who are concerned about possible toxic air pollution from a local asphalt plant:
"Our efforts for a better air in Pacoima continue. This week some of the leaders will meet with a South Coast Air Quality Management District (air pollution control agency). We are going to give them a history of what we have done, we will tell them about the medical problems that many people in the area are suffering from, and will also tell them about out tour to All American Asphalt. We are going to request that they test for emissions around All American Asphalt at a level of 3 ft. high, and to identify stationary sources of strange odors which is why we started the investigation."