NAACP Releases Environmental Justice Classroom Resource Guide
March 10th, 2015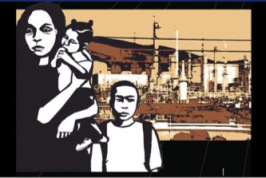 Given the results of the latest report released by the Intergovernmental Panel on Climate Change, the NAACP says we must ask ourselves some critical questions about how we prepare our children to face the world they will be inheriting, and the harsh truth of today's conditions and dynamics. How do we ensure that our youth emerge from their studies with an understanding of the intersection between our social, economic, cultural, political, and environmental status in society? How do we teach them their role as influencers of what's happening in their environment, now and in the future?
The reality of being a youth of color and/or a youth living in a low income community means that, due to socio-political marginalization, already one is more likely to be located next to a polluting facility and/or living in a county whose air quality is in violation of already lax federal standards. And, mnority youth are more likely to have the very building that houses their institution of learning built on toxic, contaminated land. We see how this plays out in high rates of asthma, attention deficit disorder, learning problems, and even violence, all of which are tied to exposure to toxins. We also see this result in missed days of school for children, missed days of work for parents who are sick themselves and/or caring for sick children, etc. We also see lower property values because of proximity to toxic facilities, which means under-resourced schools and compromised education. These youth are caught in a cycle of pollution, illness, poor education, negative interactions with the criminal justice system, and economic blight, which detracts from youth's ability to achieve and their families' capacity to thrive.
CLICK HERE TO READ MORE, DOWNLOAD THE DOCUMENT, AND SHARE WITH OTHERS VIA SOCIAL MEDIA. 
Posted in: Action Alert, Ecology, Economic Justice, Faith Responsible Investing, Global, Homepage News, Human Dignity, Integrity of Creation, Issues, Members, News, North America, Peace, Resources, Social Justice
Related keywords: environmental justice